Freudian Slip?Merriam-Webster Definition: something said by mistake that is motivated by and reveals some unconscious aspect of the mind also : a similar revealing lapse (such as a memory lapse or an unintentional action) accessed 5/21/2022 "In contrast, Russian elections are rigged. Political opponents are imprisoned or otherwise eliminated from participating in the electoral process. The result is an absence of checks and balances in Russia and the decision of one man to launch a wholly unjustified and brutal invasion of Iraq. I mean of the Ukraine. … Iraq, too. Anyway. I'm 75."
– Former US president George W. Bush, at a George W. Bush Institute event in Dallas, Texas, May 18, 2022
"A provocative, readable indictment for our time." – Kirkus Reviews
Interview with Ralph Nader (click here)
Goodreads link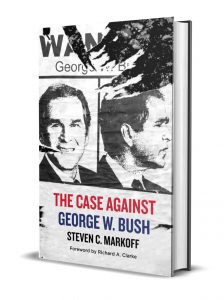 The author's first book, The Case Against George W. Bush, is now available online.
Order a copy (or copies) of the book today.
To order, simply click on any of the following links:
Rare Bird (for signed copies)
An important historical documented perspective
In the book, George W. Bush is accused of three crimes:
Criminal negligence, because Bush turned a blind eye to the extensive intel he received (beginning even before taking office) that we would be attacked by Al-Qaeda while falsely telling the American people the danger to our country was Saddam Hussein and his WMD. The carnage and damage from Bush not attempting to deal with those threats came to fruition when we were attacked by Al-Qaeda on 9/11.
Torture, because Bush, in contravention of US and international law, approved if not boasted about torturing captives and secretly sending some off to other countries to be tortured.
Misleading our country into unnecessarily attacking Iraq in 2003: The estimated deaths from that war exceeded 500,000, many of them women and children. The destruction of other lives, including returning wounded vets and families torn asunder, was incalculable.
The case against Bush is told through almost 600 sourced quotes from over 100 published books and reports. Authors quoted include those from all over the political spectrum including former British Prime Minister Tony Blair; Hans Blix, head of the United Nations Monitoring, Verification and Inspection Commission from March 2000 to June 2003; President George W. Bush; former Vice President Richard "Dick" Cheney; former US Senator Russ Feingold; former Secretary of State Condoleezza Rice; former Secretary of Defense Donald Rumsfeld; and writers and journalists such as Steve Coll, Frank Rich, Craig Unger, and Bob Woodward.
In addition:
Richard A. Clarke [Richard A. Clarke], respected internationally as a counter-terrorism expert, wrote the book's Foreword. The first few sentences of that Foreword:
"For some Americans, George W. Bush looks good by comparison to the incumbent, Donald Trump. In his post-presidency, Bush has devoted himself to worthy causes and acted in a bipartisan manner. The 43rd president should, however, be judged not by comparison to America's worst president, nor by what Bush may have done after leaving office. He should be evaluated for his actions in office, his nonfeasance, misfeasance and malfeasance. This volume from Steven Markoff provides the evidence for such an evaluation. You can judge for yourself."
100% of the royalties the author would normally receive from the book are being directly donated to the nonprofit National September 11 Memorial & Museum in NYC [www.911memorial.org].
If you know of others who may be interested in this book, we'd appreciate you telling them about it.
Regardless, thank you for ordering (or considering) The Case Against George W. Bush.
Copyright 2018, 2019, 2020, 2021